AWAKENING AT LOURDES
How an Unanswered Prayer Healed Our Family and Restored Our Faith
"You will recognize your own story in these pages. Your brokenness is not something to be endured; it may very well turn out to be your greatest blessing."
From the foreword by Jennifer Fulwiler, bestselling author of Your Blue Flame
Praise for Awakening at Lourdes
"The very word 'Lourdes' speaks of healing, love, and consolation. Our Mother, Mary, and her son, Jesus, are so evident there. To savor these tender reflections by another mom, Christy Wilkens, only enhances the power of that word 'Lourdes'!"
— Cardinal Timothy Dolan, Archbishop of New York and conventual chaplain ad honorem of the Order of Malta
Pilgrimages cost us something. But, that cost can change us in profound ways. As Christy shares the story of her son's miraculous experience at the famed baths, I was equally struck by her refreshing candor as she recounts how her unbelief became an unshakeable, YES LORD. Careful, this book may just change you, too.
— Kathryn Whitaker, author Live Big, Love Bigger
"Christy Wilkens brilliantly captures the joy, blessing, and true sense of hope her family received while on their faith-filled pilgrimage to find healing for their young son Oscar. Let yourself be drawn in to this powerful account and experience vicariously the beautiful culture and faith Lourdes is known for. I promise that by the final sentence you will be booking your flight."
— Mary E. Lenaburg, author of Be Brave in the Scared
"Many people who are sick seek the intercession of Our Lady of Lourdes for healing, but what happens when they don't get their requested miracle? They discover the other miracles along the way. This is the story of the Wilkens family."
— Fr. Edward Looney, author of A Heart Like Mary's
"In a world where strength and health are so often equated with blessing and merit, Christy Wilkens asks us to question everything we thought we knew of healing. This book gracefully challenges our assumptions about what makes a miracle and extends an invitation to find God, not outside of our present reality but right here in the middle of it."
— Shannon K. Evans, author of Embracing Weakness
"From gut-wrenchingly raw moments to periods filled with the kind of peace that can only come from true joy, Wilkens's story carries us away until we are forced to admit to ourselves that, despite our flaws, we are all unconditionally loved by our Creator God."
— Dr. Amy J. Cattapan, Catholic author, teacher, and member of the Order of Malta American Association
Sign Up for My Newsletter
You'll be the first to know any and all news about my book from Ave Maria Press!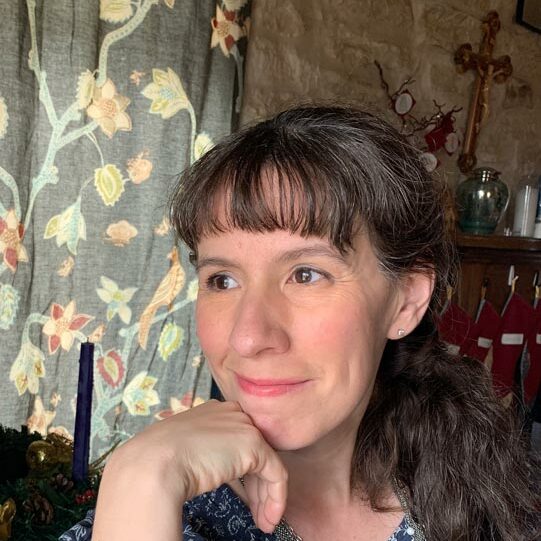 I'm a Catholic writer and speaker who wrestles with the question of how we apply theology to the messiness of real life in a hurting world.
I've spoken at women's retreats in the Austin area and for regional and national media outlets. I'd love to speak with you. Get in touch.
I am a contributing writer at CatholicMom.com, Blessed Is She, Accepting the Gift, and The Mighty. Read more.
I'm a wife, mom of six, recovering homeschooler, hopeless introvert, and voracious reader. But my most important title: child of God. More about me.