Awakening at Lourdes: How an Unanswered Prayer Healed Our Family and Restored Our Faith
Available now from Ave Maria Press and online book retailers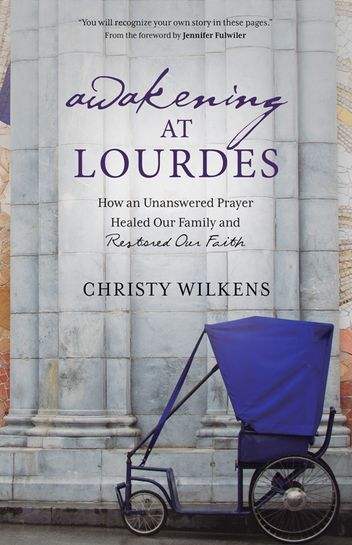 Sign Up for My Newsletter
I will never share or sell your data, and you can opt out at any time.
Subscribers receive occasional newsletters, no more than once per month.
My book, Awakening at Lourdes: How an Unanswered Prayer Healed Our Family and Restored Our Faith, was released in 2021. It's the story of our family's pilgrimage to Lourdes with the Order of Malta in 2017, the miracles we received and the ones we didn't, and why the wide gulf between those two things is awash in grace upon grace.
The title perfectly captures the way my eyes were opened to God's work in our lives, starting at Lourdes and continuing to this day. It sings the goodness of the many gifts of healing and restoration we received. (For a spoiler, check out this viral post I wrote almost four years ago, shortly after we returned home from that pilgrimage. That story is the beating heart of the book, the seed from which the entire manuscript grew.)
But it acknowledges that the prayer — the One Prayer to Rule Them All — wasn't answered with a splashy red bow. I spent most of this week coordinating a cross-country order for a wheelchair van for our still-disabled son.
Most prayers aren't answered with a definitive, resounding yes. Or even a no. Or even any clear answer at all. It doesn't mean God isn't listening, doesn't care, or doesn't love you.
If you're sitting there wondering, "Where is MY answer?" then this book is for you. Because I promise, God is listening and answering. It just might not look or sound like you expected.
I learned that the hard way so maybe you don't have to.
Thanks be to God, always, for his bounty — for the gentle mercies, and for the severe ones. And thanks be to God for giving us this story to live and to share.
* Amazon link is an affiliate link.